Welcome to the 20th Glasgow (1st Milngavie) Scout Group.
Here you will find everything you need to know about the fun and various activities that our boys and girls enjoy throughout their time with the 20th Glasgow (1st Milngavie) Scouts.
Our website is regularly updated to keep you and your child informed.
You can contact us at milngaviescouts@hotmail.com
Summer Camp 2023 was held at Jock Neish Scouting Centre near Forfar.   We visited a horse sanctuary, watched the UCI Cycling, did watersports, took a trip to the RAF Air Station in Montrose, did more watersports, geocached, hiked to Stonehaven Open Air pool and did tonnes of camping activities.   The weather was unpredictable but everyone had a lot of fun.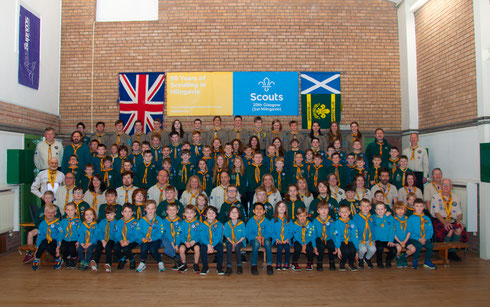 To commemorate our 90th anniversary, we gathered Leaders and Young People from all sections together to take a group photo.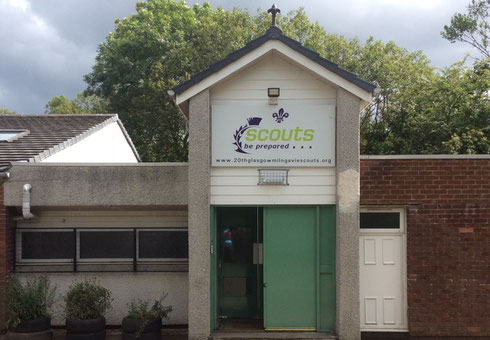 We are taking part in Doors Open Day 2022 which is part of Europe wide initiative to celebrate our built heritage. The event is held annually throughout Scotland as part of the European Heritage Days and is promoted nationally by the Scottish Civic Trust and local Councils. The Scout hall will be open to visitors on Saturday 10th September from 10 am to 5pm and visits will start on the hour Visitors will be welcomed to the Scout Hall and have the chance to hear the story of 90 years of Scouting in Milngavie before being taken on a tour of the building and finishing with some light refreshments.
Milngavie Scout Hall is a large brick and steel building built on 2 levels on a sloping site and comprises of 2 large halls with ancilliary facilities. Situated on the edge of Lennox Park it has a car park to the front and grounds to the rear. The current building replaced the original Milngavie Scout Hut which was situated behind Claremont Bowling Club off Claremont Gardens. The new hall cost £28,000 to build in 1973 and was supported by extensive fundraising by the Milngavie Scout Group. The half acre site was provided by Dunbartonshire County Council on ground adjacent to the new Milngavie town centre bypass, Woodburn Way. The building has been altered over the last 50 years with a Committee Room created in the upstairs hall, the tower above the front door has been modified, and the dormer windows on the roof have been replaced with velux windows.
Major ground stabilisation works were carried out in 1996 to address subsidence problems in the north east corner of the building and in 2014 a security fence was built around the grounds at the back of the hall creating a large safe outdoor area for a range of Scouting activities.
Summer Camps returned after lockdown and the Scouts headed off for a week at Fordell Firs near Dunfermline.   The weather was fantastic and the Scouts managed to do a lot of activities: watersports, walk over the Forth Road Bridge, a sunset visit to Cramond Island and lots more.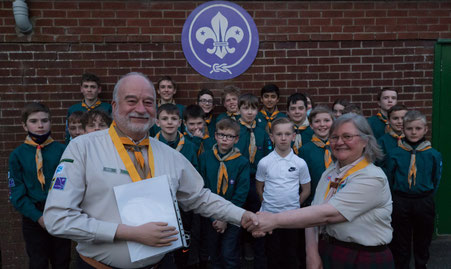 In a special ceremony, Marion Rankin, Clyde Scouts Regional Commissioner, presented Gordon "Skip" Hobden with his Silver Acorn award.    This is in recognition of the great work Gordon has done over many years of dedicated service to Scouting.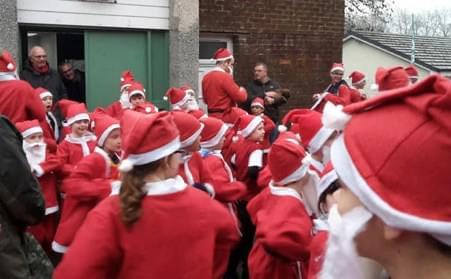 Our annual Charity Santa Dash is back and will be on Sunday 5th December. Meet at the Scout Hall at 3.00 for a 3.30 race start This is a fun 3km jog/run on paths and pavements around Lennox Park and the town centre precinct finishing with refreshments and the switching on of our own Scout Hall Christmas lights. 
The entry fee is £10 and includes your Santa suit if you need one, but please reuse an existing Santa suit if you already have one. 
Names and entry fees should be passed to your section Leader. This event is for Beavers, Cubs, Scouts and Explorers however mums, dads, brothers and sisters are also welcome. 
Volunteers are required to help with marshalling, catering and issuing Santa Suits, please contact Sandy or your section Leader if you can help out.
This year our chosen charity is Great Ormond Street Children's Hospital, so please give generously to this wonderful cause that has helped so many children who have needed the best specialist care.
A just giving page has been setup here:   
https://www.justgiving.com/fundraising/milngaviescoutsantadash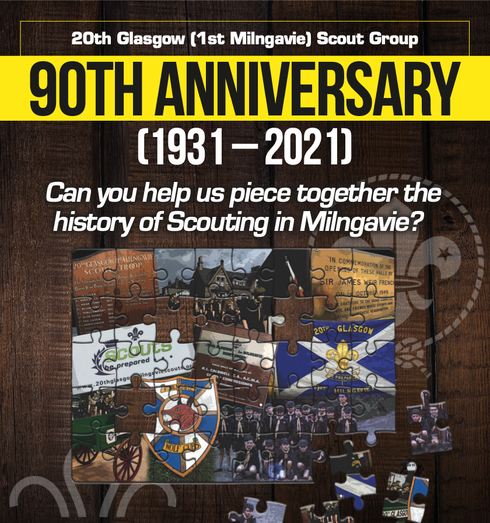 Can you help us piece together the history of Scouting in Milngavie? 
Are you a former 20th Scout or Leader or know someone who was involved with Scouting in Milngavie, then we would like to hear from you. We are collecting stories, photographs and artefacts and need your help. 
If you think you might have something to contribute or a story to tell or would just like to keep in contact with the Scout Group, then please get in touch. 
The 20th Glasgow was first registered as a Wolf Cub Pack in November 1931 and initially met in Milngavie Public School, then in local churches until moving to our first Scout Hall which was built off Claremont Gardens in 1949. 
As the Scout Group continued to grow larger premises were required and our current Scout Hall was built and opened in 1973. This is our own hall and is located on Main Street, Milngavie on the edge of Lennox Park. It has two halls on different levels and around an acre of ground behind the hall for outdoor activities. 
We currently have almost 200 boys and girls and adult Leaders involved in our two Beaver Colonies (aged 6-8), two Cub Packs (aged 8-10.5), two Scout Troops (aged 10.5-14) and one Explorer Unit (aged 14-17). 
The Scout Group is run entirely by volunteers and has provided camping, adventure and many other activities for local boys and girls over the last 90 years. 
If you have something to contribute to the Group history please email milngaviescouts@hotmail.com or you can phone Sandy Bennet, Group Scout Leader on 07954727741
Our Beaver, Cub, Scout and Explorer sections are currently preparing to return to some normality from September.   Some minor restrictions still remain due to the current Covid 19 emergency.

The Winter Camp at Lochgoilhead for Cubs and Scouts will be rearranged for a future date.

The Trail Race will also be rearranged.

Beavers (6–8)
Cubs (8-10½)
Scouts (10½–14)
Explorer Scouts (14–18)
Why not also check out what your children have been up to on our Facebook site FirstMilngavieScouts .  Here you will find exciting updates on events, fun activities and lots of photos uploaded by many of our leaders and helpers. This is a private site so you will need to register with a facebook account.
The Scout Group Annual General Meeting will be held on Wednesday 12th February 2020 at 7.00pm in the Scout Hall. All Leaders, Office Bearers and parents are invited to come along. During the evening we will have time for Leaders to update parents on some of our forthcoming camps in 2020:-
March (Winter) Camp at Lochgoilhead for Cubs and Scouts 
May Camp involving both Cub Packs 
Explorers trip to Kanderstag in July
Scout summer camp in August
Please come along and join in the fun!
The Scout Association annual census takes place in January/February. Each scout section needs to ensure that the children involved's details on the Scout database are up to date. Please make sure you update any data with your child's scout leader.
There will be an intake of new Beavers starting in January as well as several Cubs, Scouts and Explorers joining the Group as new members. Parents of new members should receive a copy of the subscription letter  which explains the reduced fees and how to pay.
March (Winter) Camp at Lochgoilhead for Cubs and Scouts 
May Camp involving all 3 Cub Packs 
Explorers trip to Kanderstag in July 
Scout summer camp in August 
We'll update you with more information on each of these as and when it is available.
results, picture and comments click here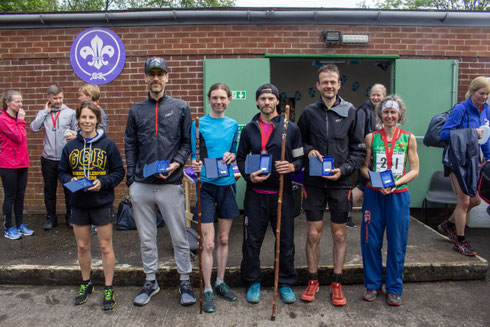 We have 2 great sized halls that are available for functions, birthday parties etc.  We normally charge £15 / hour for classes etc, and for evening functions such as parties,normally a minimum of 4hours @£15. Please contact our Hall Bookings administrator Katie Risk on 953 3996 or 07515 491013 
At the moment most of our sections are at or near capacity, however this can change frequently especially at the beginning of terms etc so if you are looking for a space please contact our waiting list co-ordinator Alison Callaghan by completing the form on our Waiting List Application
We are always looking for ways to raise money for the upkeep of our halls.  Money we raise is used for the hall upkeep as well as buying and replacing equipment and financing indoor and outdoor activities for our boys and girls. If you have any ideas or would like to make a contribution please contact us or discuss your idea with any of the Leaders.